Anxiety, stress, and depression are amongst the most common challenges around us, especially in this era of quarantine where the global pandemic has forced the circumstances to go from bad to worse. How do you deal with this? 
Think about it, how would you see a therapist if the visits are reserved for emergencies, or let's say it's a health risk to visit a hospital? In situations like these, when you create a mental health app, it can be a lifesaver for several people across the globe and for the service providers too.
According to a recent study by ADAA, 40 million adults in the United States of America suffer from anxiety. Also, the study shows that 75 percent of people who have mental ailments go without any treatment for it in developing countries.
These statistics show that to create mental health app is the need of the hour in our society and the world in general.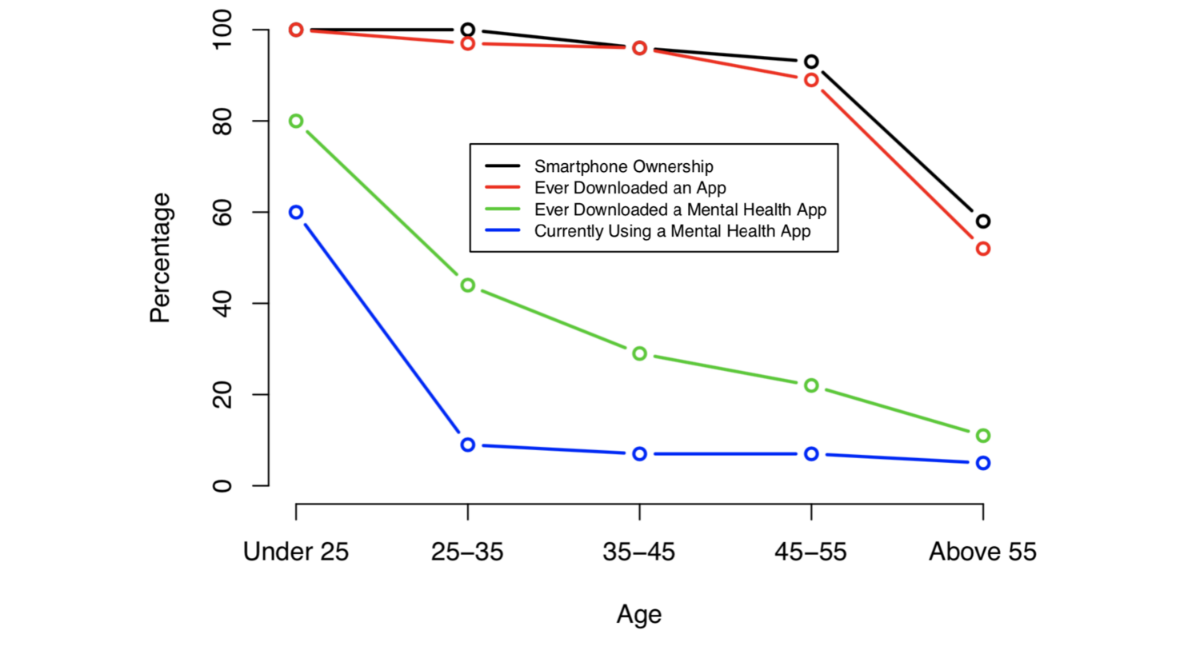 Considering the importance of creating a mental health app in society at this point, we thought it's high time we put on our mental health app developers' hats and bring you everything you need to know when you create a mental health app!
MENTAL HEALTH APPS STATISTICS
Between January to April, the first time downloads of mental wellbeing apps in the US increased by 30%


The US government has granted $5.5 billion for SAMHSA (Substance Abuse and Mental Health Services Administration) in 2020.

Talkspace mobile therapy company has witnessed a 500% increase in the number of therapists who have requested to join them.

The FDA has relaxed its guidelines for counseling apps amidst this pandemic.

As many as 20,000 global mental health apps may exist today, with two of the most popular being Calm and Headspace with the growing mental health app market size.

Moreover, data shows that the COVID-19 pandemic has exacerbated mental health concerns and triggered declines in well-being, with a dramatic rise in the prevalence of problems such as depression, anxiety, post-traumatic stress symptoms, and stress.

Prepandemic estimates suggest that poor mental health costs the world economy US$2.5 trillion per year, a cost that was projected to increase to US$6 trillion by 2030.

Interest in mental health apps is linked to increasing mobile phone access, with over 225 million people in the United States and over 2 billion people around the globe using these devices today. (

Source

)
Top Features To Include In A Great Mental Health App
There is no secret seasoning to manage mental health. You have got to do the basics right. Eat well, sleep well, maintain a routine, and stay positive. 
However, let's say you had to create a mental health tracker that would help users assess their mental health condition, what would be the best mental health software? And if you are seriously considering creating a mental health app? 
Below are some of the must-have features that you must include in your mental health app to help your users have a better hold of their mental health!
User Profile
It is crucial that when you create a mental health app, it has a personal touch to it. How? The best and the quickest way of doing this is by having a profile with all the user details that affect the working of the mobile app, for example – what time do you wake up or how many times do you go running in a week.
In this way, your app can also cater to someone from the industry to provide such expertise, making your innovation one of the best apps for mental health professionals.
Notifications
Every application needs engagement in order to make money. Reminders and notifications help with this challenge. Users must use these products regularly to achieve tangible goals to make it one of the best mental health reminder apps that enables mood tracker features to improve your mood.
Dashboards
Quantification of anything has become an obsession for people and mental health is no different. To oblige the need and want of quantification, dashboards are a must-have feature when you create an evidence-based mental health app as dashboards are great for tracking our cognitive, emotional, and otherwise mental health care conditions.
Self Monitoring
Self-monitoring is of absolute importance to measure progress. Before the dashboard turns into a colorful and winning experience, the users must have the option to track their conditions. Having said that, the lesser the typing/tapping, the better the mood tracking app experience.
Messaging
The messaging feature is an absolute must-have when you create a mental health app because it is so relevant in teletherapy. This feature would allow users to connect with remote therapists in a hassle-free manner. 
Furthermore, a conversational UI such as a chatbot could be great for a self-monitoring mobile application.
Calling – Audio & Video
In the context of creating a mental health app or a telemedicine app, just like messaging, audio and video calls are extremely relevant.
Talking about audio and video calls, there are several things to consider. Having said that, the basics of what you should be focussing on are making these calls clear and providing your users with a completely stutter-free experience.
Artificial Intelligence & Machine Learning
Artificial Intelligence and personalization are crucial when you create a  mental health app and they both go hand in hand. The more your mental health application learns about the users the more it can adapt to the user needs and requirements. 
Gamification
Gamification is a good idea to make your app more interesting. Moreover, mini-games help people sharpen their skills while slackening their minds.
Teletherapy Apps Vs. Traditional Therapy
It is hard to imagine that creating mental health mobile apps can replace traditional therapy completely but at the same time the benefits of these products are unimaginable. 
Because of these benefits, healthcare app development has seen a surge in popularity, especially during the time of the COVID19 pandemic.
Let's look at some pros and cons of mental health apps solutions!
Pros
Accessibility – Anytime anywhere

Cost-effective compared to face to face sessions

Control over data
Cons
Need to educate patients about using technology

Trust issues

Session confidentiality is limited
Mental Health App Monetization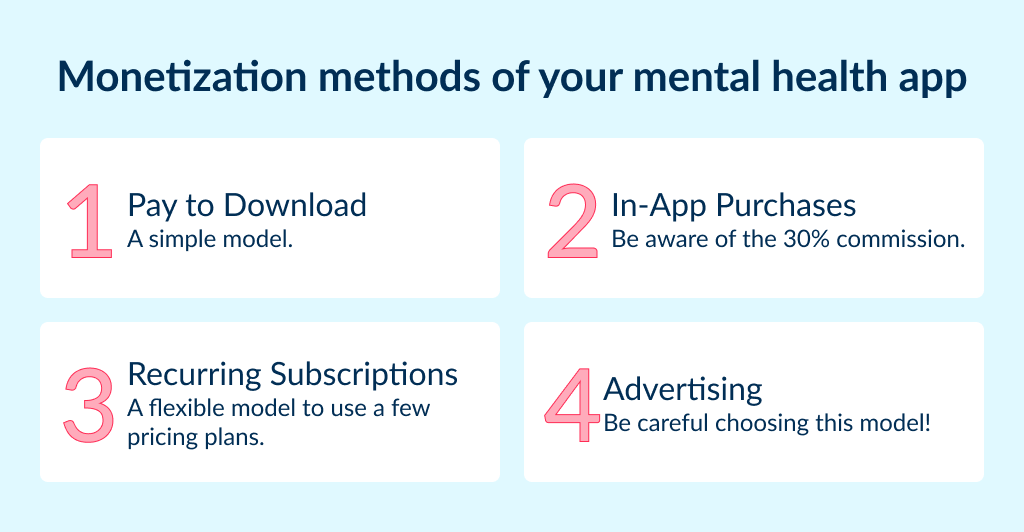 Just like when you create any other mobile application, it is vital that you create a mental health app, it makes money for you. Some of the most common and preferred monetization models for mental health apps are:
Paid version/Premium version

In-app purchases

Ads

Subscription
Having listed out the top monetization models for mental health apps, in top-performing products, you'll see that most of them opt for subscription models. This decade is what we like to call 'A subscription economy' where the price of ownership varies over time and popularity.
How To Create A Mental Health App – Best Practices
There are several mental health mobile applications out there. What will make your app stand out? Whether it be psychology apps for Android or for iOS users, here is a list of best practices to consider when you create a mental health app for both operating software.
Consumer-Centric Design
For any mobile application to establish trust and credibility, the app design is vital. 
Some of the questions that will help you understand whether your application would be a hit amongst users are
Is the onboarding process smooth and swift?

Is it user-friendly and easily comprehensible for users in terms of what they can do in the app?

Does the UX have interactions?
Make sure that when you create a mental health app, It is accessible to everyone including those who aren't a fan of vibrant designs.
Security
Security is an important consideration because people care about their data and are not willing to put that at stake.
Of course, being HIPAA compliant is primary to ensure data security but apart from that, what you can do is have a transparent privacy policy along with educating your users about security and best practices.
Doctor Centric Back End
Do not forget that the therapists too would be using the same mobile app to interact with users which means they would require a different solution to track and review patient data and progress.
Multiplatform Support
In today's time, users generally use 2 devices. A smartphone and a laptop. Or if your user is a techie, he might also use a smartwatch or a tablet. 
With so many options available for the users it is vital that your mobile app is compatible with various devices and that it is always available to use.
Interoperability
It is important that when you create a mental health app, the mental health data flows freely from a mental well-being application to other therapy providers to enable better-guided meditation and other cognitive-behavioral therapy (CBT) to be conducted seamlessly.
It is a good idea to keep the patient data readily available for secure and anonymized sharing because you never know when and what opportunity knocks on the door as it has to be one of the best apps to talk about mental health.
Using Artificial Intelligence
AI has the potential to break or make your app! When you use such a mobile application, it's impossible to rely on real patients for training the machine learning algorithms which makes it all the more important to have an option for effortless human handoff to ensure better digital health.
Psychiatric Emergency
Last, but not least, always reiterate to the patients that your mental health mobile app is not a solution for an emergency. Also, make sure you provide appropriate emergency contact numbers in-app for situations like these.
Final Thoughts
To sum it up, when you decide to create a mental health app, it is vital that your mental health app is backed and based on evidence and that it provides the users with a privacy policy ensuring that their data is safe and secure for them to feel confident about using the app you build.
It is also a great idea to keep the mental health app engaging and fun by adding small and interesting game-like elements for the users to remain hooked so as to block their negative thoughts, and prevent mental illness along with other health issues.
RnF Technologies is one of the top mobile app development companies. Got a project in mind? Why not test our skills? We can help you build custom software and mobile app solutions for your business. Let's discuss it!