The World Health Organization mentioned telehealth service and telemedicine among essential services in "strengthening the Health Systems Response to COVID-19" policy. 
According to a new WHO policy, within the optimizing service delivery action, telehealth and telemedicine should be one of the alternative models for clinical services and clinical decision support.
Today, we are living in times where healthcare is of utmost importance for any country across the globe. The Covid-19 outbreak has taught the world how important it is to have a fully equipped medical infrastructure, and using technology to harvest such support is the only possible solution.
What is Telehealth? Telehealth is essentially a merger of technology and healthcare. With the advent of technology and its benefits in Telehealth, I'm sure you all must have heard of:
Doctors examining case studies over video calls
Online communication between doctors and patients
Home-based monitoring of patients 
In the world of healthcare, all the practices mentioned above are being used more commonly. All of this is possible only because of the Telehealth service.
"In a few years, the idea of receiving medical treatment exclusively at a doctor's office or a hospital will seem quaint" – Harvard Business Review.
Note – In this blog, we are only talking about the clinical side of Telehealth.
What is the need for a Telehealth App?
Patient's Perspective
According to a

survey

, In the US, patients need to wait 24 days to get an appointment with a physician.

82% of patients agree – developing technologies should make the process of receiving healthcare as accessible as hailing a taxi or ordering food 

77% of them want to contact their physician via text messages 

69% of patients prefer virtual appointments with their physicians using a mobile device over offline visits.
Medical Professional's Perspective
Doctors come across various challenges that can be solved using telemedicine apps.
Problems:
Compliance with Regulations

Schedule Mismanagement
To cut the long story short, telehealth service mobile apps are beneficial for both the doctors as well as the patients – A win-win situation!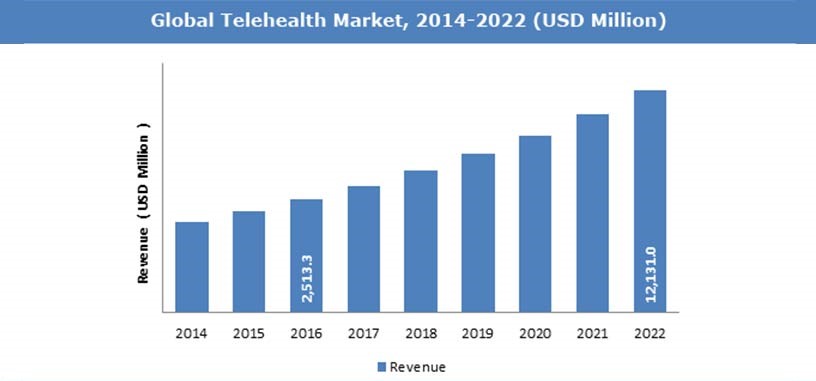 *Market size of telemedicine apps is expected to reach 40 billion dollars by 2021
What is Telehealth – Benefits of Telehealth App
To begin with, there are multiple benefits of telehealth.  Telehealth applications would enable quality healthcare services at a more cost-effective price. Other benefits of building a Telehealth app include:
Higher Flexibility – Using telehealth service app, professionals in the field have more control over their working hours, and responding to emergencies becomes a lot more effective.

Higher Productivity – Telehealth applications are highly accessible to patients facilitating minimal waste of time (travel and wait), and also improves the treatment outcome. Doctors would be able to attend more patients as compared to hospitals.
What is Telehealth – How does a Telehealth App Work?
Although every telehealth service application has its logic of working, here is a typical workflow of how a telehealth app works!
The patient logs in to the system and creates an account. He then lists out his symptoms to receive a doctor's consultation.

The app assigns the most suitable medical expert nearby for the patient, depending on his health condition.

Once the doctor is identified, the patient can schedule a video consultation over the app.

Amidst the video consultation, the doctor talks to patients to take updates of the patient's health, recommends treatment, tests, and so on.

After the meeting, the patient pays for the consultation using the app's built-in payment gateway.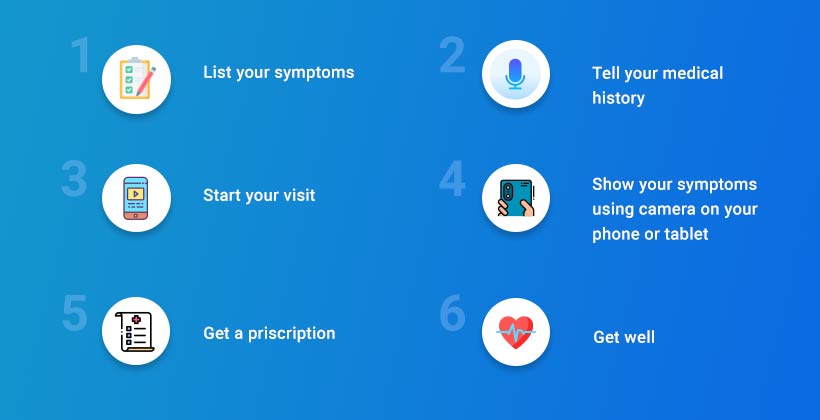 Also read,
What is Telehealth – Features of a Telehealth App
When building a telehealth app, consider implementing these features:
App Features for Patients
User Sign-in:

Every time a new user logs in to your app, they will have to create an account with information about his health conditions, age, gender, and even insurance.

Search for an Expert

: A patient can find an expert using a search with geolocation. He can then book an appointment with the professional.

Video Appointments:

Video calls are a crucial feature for any telehealth app because they will be used to connect patients and doctors for live communication.

Payment Gateway:

Once the patient is done with the consultation, he has got to pay for the services. Consider integrating payment gateway via API.

Doctor Review

: Once the patient is done with consultation and everything else, he can leave a review and rate the doctor. 
App Features for Doctors
Doctor Panel:

 A doctor's panel is a part of the telehealth app that contains all the information about patients, their medications, tests, prescriptions, and appointments.

Manage Appointments

: Once the patient has found the expert, he needs to book an appointment. The app should automatically manage the doctor's schedule, accommodating all patients.

Messages:

You must have an in-app messaging feature to allow patients and professionals to send safe and secure messages, exchanging data like prescriptions, reports, and X-rays.
What is Telehealth – Challenges Of Telehealth
Just like any other technology, Telehealth app development also has its share of challenges. However, all these challenges have solutions to it, and hence it's not an issue.
Challenges of building a Telehealth service app are:
Adaptation of changed healthcare processes by stakeholders

Following rules & regulations governed by different states

Security and privacy of patient data

Limited medical care exposure

Advance research needed for further Telehealth analytics
Some Stats to Ponder On
Conclusion
Today, with emerging technologies making its presence felt across industries, including the healthcare sector, Telehealth applications have taken a massive leap in helping improve and enhance the healthcare system.
In 2020, a lot of medical organizations have been witnessing the benefits of Telehealth applications making the most of all the additional services the application offers.
Are you one of them? If not, it's time you hire dedicated mobile app development teams now and get in the ring with big enterprises in the healthcare sector.
Over the years, it is evident that the healthcare systems across the globe will witness changes where technology combined with healthcare will become inevitable. This is the right time for exploring this area of healthcare. Good Luck!