When the worldwide web was invented back in 1989, not a lot of people knew what was in store. But today, websites and web apps of various businesses are constantly adapting and integrating with new web development trends and technologies.
In an extremely competitive world like today, website owners must realize that users would never want to spend time on your website if it is poor in terms of content and design. 
However, if the website is well thought out and well designed, your users are likely to stay on your website for longer durations.
The world of the web keeps on adding thousands of websites and millions of users to its list at an unimaginable pace. Making your business website noticeable in such competition is certainly not a cakewalk. 
It is vital that you are immensely creative and are thinking out of the box. Of course, following the latest web development trends is extremely important in order to achieve that milestone. 
We agree that predictions are not based on any data that we can source for credibility but having said that, predictions can certainly guide you on your way to some soul searching in terms of web development.
In this blog, we have listed out the top 7 web development trends for 2021 by analyzing the market's demand for you.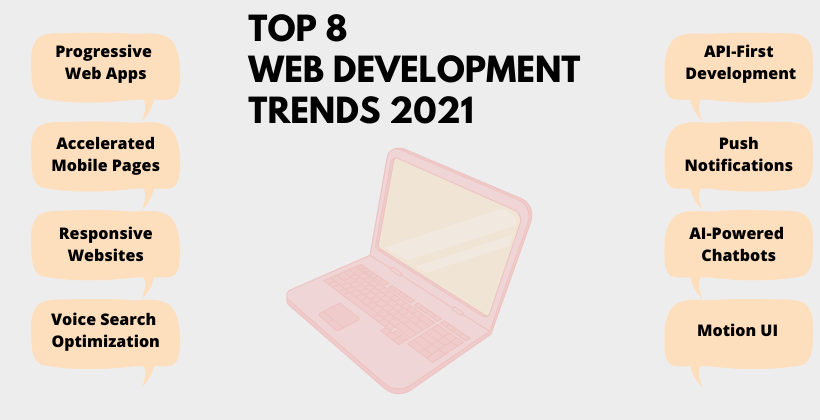 Here are 7 Web Development Trends You Must Be Ready for in 2021!
Progressive Web Apps
Progressive web apps have become extremely popular in recent times and are undoubtedly amongst the most impactful web development trends for the coming year. 
PWAs have the power and ability to take the world wide web to the next level by making web browsing user experience for the users easy and engaging, precisely like native mobile apps.
To cut a long story short, PWA is a website with functionalities like Native apps. (push notifications, hardware access, and access to the website offline.)
According to data, Mobile applications account for over 80% of the time users spend on their devices. This shows that mobiles dominate other devices like desktops and laptops. 
80% is a big number and PWAs have the potential to change that number by eradicating what users hate – poor user experience, reduced website speed, and no access offline.
Some of the world-known companies that have already built a PWA and are making the most of it for their business:
Alibaba

Forbes

Twitter

The Washington Post
The result – Increase in conversions and a decrease in load time.
The best technology you can use to build a web app for your business includes 
Accelerated Mobile Pages
Mobile browsing has become mainstream and Google takes serious steps to enhance this experience. First, Google introduced the accelerated mobile page project back in 2015 but in 2021, it's amongst the top web development trends for 2021
The accelerated mobile page is a technology created in order to emphasize building websites that are speed optimized and work perfectly on mobile devices. 
Like I told you earlier, Google is in love with websites that load quickly and that's why AMP websites load within 2 seconds whereas the non-AMP websites can take up to 22 seconds. Moreover, AMP pages can effectively contribute to the websites ranking on the SERP which makes it great for SEO too.
The best technology you can use to build Accelerated Mobile Pages is AMP HTML open frameworks. Google has come up with a website with all the details about documentation along with a guide/tutorial for the same.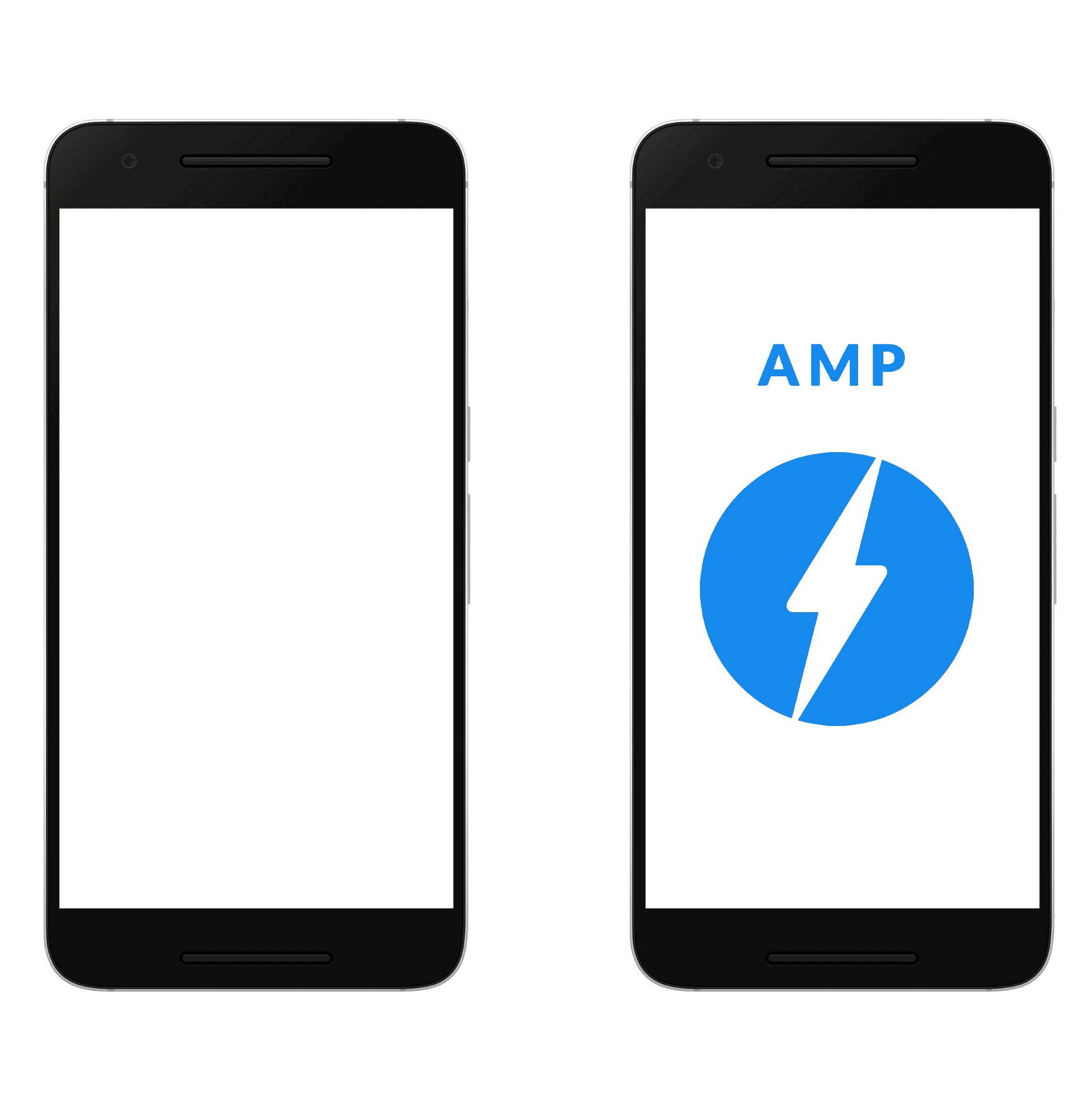 Responsive Websites
Even with all the new technologies making it to the list of top web development trends in the year 2021 like AMPs and PWAs, some of the traditional technologies like responsive websites are still also amongst the top web development trends for 2021.
Having a responsive website was considered to be good to have a feature a couple of years back but now, it is a must-have feature. Having a responsive website is vital because like we said above, the majority of the users prefer to use mobile devices as compared to other devices.
Did You Know – Google is working on mobile-first indexing? This means that a website ranking will largely depend on how well it is optimized for mobile devices.
Voice Search Optimization
Voice search is yet another trend that's going to go mainstream in the year 2021. With gadgets like Alexa and Google mini gaining immense popularity across the globe, You just can't overlook this trend.
30% of all the searches in 2021 will be done without using a screen – Gartner. 
21.4 million people in the United States of America will use voice search in 2021 – Activate Outlook
By the year 2022, voice commerce sales are predicted to reach $5 billion in the UK and up to a whopping $20 billion in the USA.
Looking at all the studies around voice search optimization along with considering the actual market situation, Voice search optimization is rightfully one of the top 7 web development trends for 2021.
Make sure this is a part of your SEO strategy. Early birds always make the most of such technologies.
API-First Development
Connectivity is a must! When we say connectivity in terms of web development, we mean it is vital that web solutions are prepared for connectivity with other applications. API First development is hence, rightfully in the list of top web development trends 2021.
This has become a lot more important at a time when mobiles, wearables, and other smart devices are becoming more and more popular amongst users. 
To be able to use such devices, connectivity is a must and that's exactly why and where API's first development approach comes into the picture.
In the past, API development wasn't really considered to be very important. At best, API development came in as side hustles and most of the time these APIs were tested or properly designed.
Having said that, in 2021, that ought to change.  API's first development is going to trending technology in the next decade. 
No longer. The entire team would be compelled to wait until the other members get done since this is a simultaneous development process. This also adds to quick and swift development.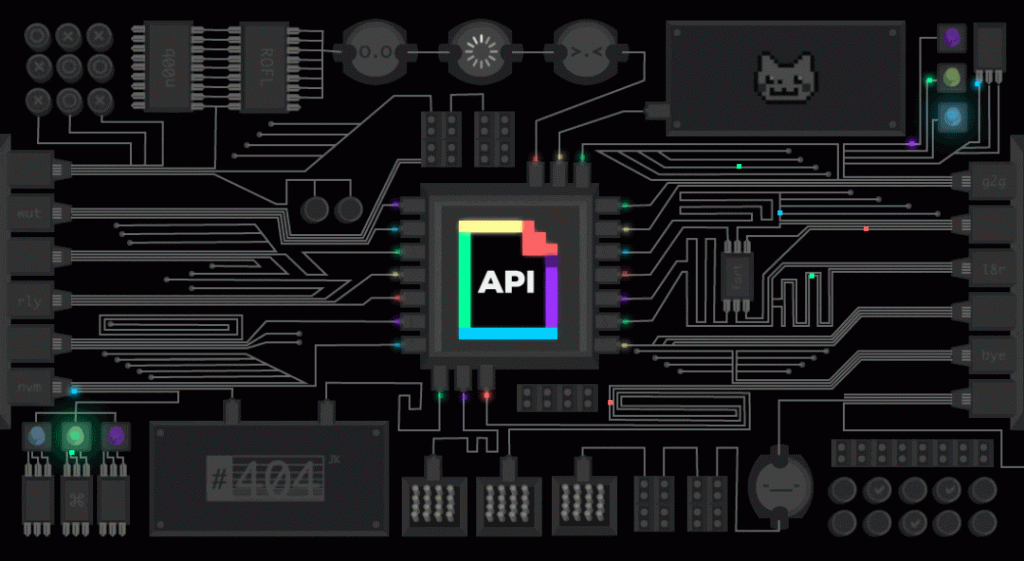 Push Notifications
We are all aware of what push notifications are and what are they so important. That reason alone could be the reason as to why push notifications are amongst the top 7 web development trends for 2021.
Push notifications are extremely powerful tools and are vital for improving the user experience along with the marketing efforts of the company. 
Traditionally, mobile apps have always had strong and not so rigid functionalities for user notifications. Now, web apps have also joined the group. 
Web apps essentially use push notifications in order to send out information to their users. You can send information such as offers, rewards, and also content. The best part is you don't need any registered users or email id's to do so.
Some of the most popular solutions to use when creating browser push notifications are:
OneSignal

PushEngage

ZoPush

PushCrew
Chatbots Powered By Artificial Intelligence
Businesses across countries work at different time zones because of which achieving flawless customer support is next to impossible.
Automation and AI are of course one of the top web development trends that one must keep in consideration when indulging in web development in 2021.
The fact that chatbots powered by ML and AI have time and again proven to be accepted, long term investment into this is a great idea. AI-powered chatbots have the ability to answer chats, FAQs, and queries seamlessly.
According to a Survey, in 2021, users would prefer using chatbots for getting quick answers in an emergency in order to resolve a query asap.
Some of the most popular technologies to use when creating AI-powered chatbots are –
Microsoft Bot Framework

Facebook Bot Engine

Dialog Flow
Final Thoughts
The world of custom web development has evolved and the process of evolution is constant. It is vital that businesses and organizations keep up with all the latest web development trends in order to keep up with the market.
For businesses, to achieve the best outcomes and deliver better services & experiences to their customers. It is vital that you hire the right professionals or web development experts, who are well versed with all the latest web development trends. 
RNF Technologies is one of the top web development companies and our team of skilled developers is well versed with all the top web development trends for 2021. Got a project in mind? Why not test our skills? Let's discuss it.