Why Use Shopify To Build Your Ecommerce Solution? Shopify is an effective eCommerce solution that offers a broad range of features & a simple management system.
We are in 2021, and the brick and mortar stores are on the verge of redundancy. Tech-savvy customers equipped with smartphones and tablets are choosing the convenience and ease of shopping online, from home. 
With the online shopping trend booming, we have seen a surge in the number of online stores in the past couple of years. The global pandemic has furthermore contributed to this surge.
The online shopping business is competitive and believe us, it is fierce!
It is vital for online store owners and budding entrepreneurs to choose the right development platform for their business if they are looking to get a competitive edge over others.
Having said that, there are a number of options out there but time and again, the question "why use Shopify" happens to have a very valid answer,i.e., because it is a feature-rich and the most cost-effective eCommerce solution available.
Is Shopify Right For Your E-Commerce Needs?
You have heard about Shopify (Of course you have). But let's see if it is right for your business. Shopify for online business enables you to set up your online store. 
The platform offers a wide range of features and themes which makes it simple for online store owners to set up and launch their stores swiftly. Shopify for online business enables you to change, or rather customize the look and feel of your online store easily and cost-effectively.
In a mobile-first world, it is worth noting that Shopify for online business is optimized for mobile shopping. The platform on mobile comes with built-in data reporting in order for you to track your KPIs.
Why should you choose Shopify?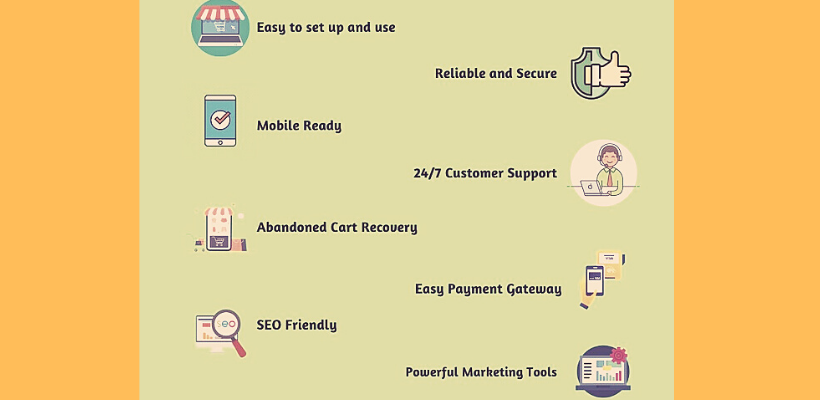 Full Of Features
The Shopify E-Commerce development platform facilitates online store owners with beautiful themes and management tools that are second to none. These tools help online business owners ease up the development process and reduce the time drastically.
Not just this, some more notable features of Shopify for online business are–
Superior speed and performance

PWA – enabled

More than 100 professional themes

Shopify POS integrated

Third-party applications can easily be integrated

Facilitates a blogging platform

Mobile version and M-Commerce

Facilitates a free SSL certificate

multiple payment gateways

Tax Integration

A wide variety of languages to choose from

Round the clock customer support
Easy Set up
Being one of the easiest to set up platforms, Shopify for online business allows the developers to build online stores without having to code or host, for that matter. 
When you decide to build an online shop using Shopify, all you need to do is choose a theme, your preferred payment methods and you need to upload the products that you want to sell on your online store.
Having said that, it is a good idea to engage a Shopify Development partner from a top Shopify development company to make the most of the custom Shopify apps and plugins. 
Platform – Mobile Ready
It is no news that the number of mobile users is more than the number of desktop users. Today, with the convenience of shopping from anywhere, a majority of the population is using smartphones to shop. 
Shopify's eCommerce platform offers a number of mobile themes that are responsive. The eCommerce platform further facilitates a free in-built mobile commerce shopping cart.
Progressive Web App Enabled
The progressive web apps have certainly created hype in the eCommerce industry. 
The best part about progressive web apps is that they can be easily accessed from your mobile device without you actually having to download or install any application.
PWA's are powerful and facilitate an immersive user experience, screen orientation allowing businesses to make the most of marketing gimmicks like push notifications.
Shopify for online business is PWA friendly. Shopify for online business allows businesses to launch as a PWA with minimal frontend development for Shopify websites. Moreover, this saves businesses a lot of time and money.
Payment & Checkout
In an online shopping business, checking out is undoubtedly the most important part. As per reports, the majority of the users abandon a shopping card because of the complex checkout process. 
However, Shopify for online business facilitates easy and frictionless commerce that offers to attract checkout options, reducing the probability of cart abandoning.
Shopify for online business is not limited to one payment option. On the contrary, it supports a plethora of payment options like Paypal, Stripe, Apple Pay, and even Bitcoin. 
Shopify is a partner to a number of payment processors and it accepts multiple currencies. Isn't that great?
Need more convincing? Here are some more Shopify statistics to ponder on:
In the third quarter of  Shopify's 2018 Financial Report, the subscription Solutions Revenue increased by 46% reaching a whopping $120.5 million.

Merchant Solutions revenue witnessed a surge by 68%, i.e., $149.5 million.

In 2019, Shopify's Monthly Recurring Revenue for Q1 was $44.20 million, which marks a 36% year-over-year increase. In terms of yearly revenue, Shopify's grew from $101.10 million in 2017 to $146.60 million in a year.
Top-grossing Shopify stores are:
The Economist

New York Times

Leesa Mattress

Sunday Somewhere

Penguin Books

Tesla Motors

FashionNova
Shopify – Custom Development
In order to get your Shopify for online business store configured, development support is vital in order to have a secure, reliable, and responsive online store at a reasonable cost.
Shopify for online business comes with a fleet of options like drag & drop, subscription update enabling business scalability requirements over time.
Shopify and POS applications
If your online business is not limited only to the internet, but also has a brick and mortar store, Shopify for online business provides POS (Point of sale) application for Android as well as iOS.
POS increases the opportunities significantly. With POS in place, you can apply coupons, create custom payment methods, adjust prices and go ahead with a refund without any hassle.
Having said that, this might not be the ultimate POS available out there but for small and medium businesses with an online presence, this is a great addition.
Now, before you get back to your research about the top Shopify development companies in 2021, contact us for more information about our eCommerce experience and how we can help you set up your Shopify application.
Over To You
Are you doing well with online retail and sales? If yes, it's great. But, do you think you could be doing a lot better?
Shopify for online business is an effective and leading eCommerce platform with a flexibility that is second to none.
Shopify for online business is extremely cost-effective, rich in features, and has the potential to attract more and more clients surging your business's bottom line.
Now that you know how equipped Shopify is to boost your online business, You've got no reason to wait, partner with us for your Shopify development needs and watch your store take it to the next level!