We understand that not all businesses are perfect- but our firm is dedicated to making sure that your firm's IT support and development are handled without a flaw! Skilled and accredited with a proven track record since November 2009, we will work with you to continually innovate so that you firm has an edge in today's digital economy.
With that said we are extremely proud to be named a 2019 Clutch Leader in IT Services in New York! 118 leaders were selected for this annual award, and RNF Technologies is in 2nd position on the list! And to have been identified as the number 1 company out of nearly 900 staff augmentation services firms in India is an honore and truly a testament to our team's hard work.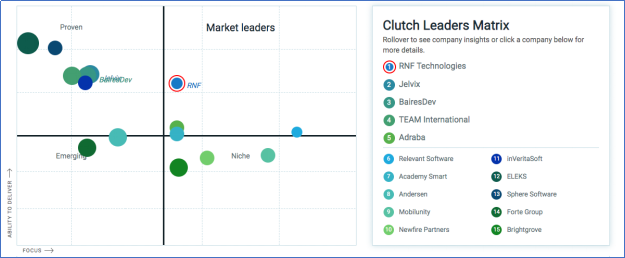 Clutch has earned a name for itself as a leading player in the B2B services space. They perform detailed market research and collect in-depth company reviews for firms that are profiled on their site, evaluating them based on brand strength, ability to deliver service, and overall customer relationships.
Feedback from our clients was a seminal part of achieving this recognition, and we're grateful to our clients and Clutch for taking their time to produce these reviews.
"RNF goes above and beyond to make sure that our projects succeed." – Sales & Marketing Specialist, Safety Products Distributor
We are also excited to announce that The Manifest, a sister site of Clutch, has named us among the top 50 IT staff augmentation companies for 2019. Our efforts The Manifest and Visual Objects – an innovative online portfolio website- work simultaneously to increase the likelihood that IT services firms will connect with business buyers looking for our services.
We truly appreciate the recognition that Clutch has given us as our relationship with them has flourished over time. We hope that more firms entering the buyer's journey come across our qualified team of experts and decide to move forward with our high-quality service.
Overall, we can't express enough how grateful we are to be named leading Indian IT Services company by Clutch. Our work will continue as our experts here at RNF Technologies and our sister company Resourcifi Inc. remain dedicated to ideating, designing, developing, and delivering solutions that are specific to the needs of our clients.