Mobile commerce accounted for a whopping $2.32 trillion in terms of digital sales in 2019. That number is too big to be ignored! And it is constantly getting bigger.
According to Statista, in 2021 mobile users are anticipated to make up to 72.9 percent of total eCommerce sales.
Ecommerce stores have immense potential of yielding returns on mobile. Having said that, even now, mobile shoppers do not convert at the same rate as desktop shoppers! 
A recent study shows 
The average eCommerce conversion for desktop is at 3.90%

The average eCommerce conversion for mobile is at 1.82%
The stats above raise a very significant question, i.e., why are desktop conversion rates superior to mobile conversion rates?
Here's why!
Desktop users are facilitated with

quick page loading

It is easier for desktop users to access the main menu

Desktops promote a prominent search bar

Descriptions, images and product categories are more intelligible on a desktop
As luck would have it, there are steps and strategies that you can follow to improve mobile conversion rate while increasing your sales and revenue. What you ought to do is, optimize your online store for a user-friendly mobile experience.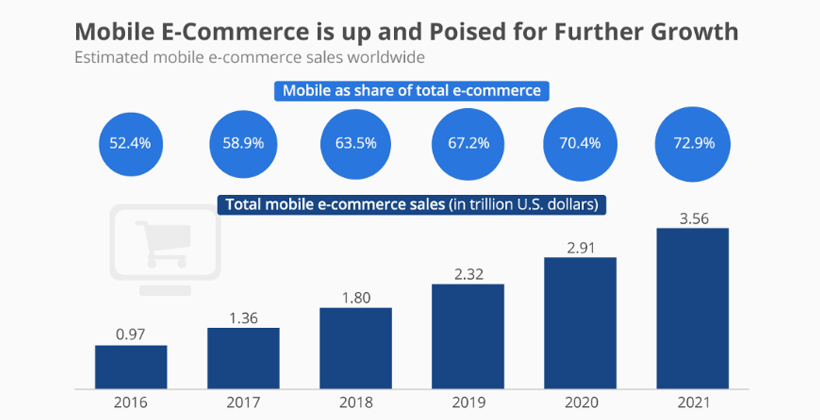 Why is Mobile Optimization for Conversion Important?
Have you ever accessed a website on a smartphone? If you have, you would know that it can be exasperating! You've got to deal with tiny buttons, links and so much of scrolling! 
In the entire process, there are numerous unclear forms and fields that often compel users to abandon the site.
People, in general, are worked up and impatient, and waiting for a page to load for more than 5 seconds and fighting a battle to add products to their carts is the last thing they would succumb to!
You need to make sure that there is no friction! 
At the end of the day, it all narrows down to friction. More friction a website creates, lesser is the chance of your prospects becoming converts. 
Friction essentially erupts when there is a blockade in the process of purchasing on a website. If a customer has to work harder than required and has to exasperate himself mentally to make a purchase, they would feel the friction, which makes them want to avoid the entire experience, probably costing you a convert!
The consumer behavior of mobile phone users is entirely different from the consumer behavior of desktop users. Businesses need to contemplate and act upon the most suitable strategies to improve mobile conversion rates through mobile device optimization.
Here are 7 Proven Ways To Improve Mobile Conversion Rate!
Site Performance Optimization
53% of Mobile Site Visitors Abandon if it Takes More Than 3 Seconds to Load Page! 
One of the foremost ways of increasing the conversion rate is to make sure that your website page loads faster. The website speed and the mobile conversion rate are inversely proportional. The lesser time it takes to load the page, the higher will be the conversion rate.
A faster loading website also dramatically reduces the bounce rate. It is vital to conduct diagnostics in order to check and assess the number of server requests in order to decide what elements need to hit the screen at first. 
Use of Digital Wallets
As per data, one of the primary reasons why a user gives up on his cart is because of a lengthy and time-consuming checkout process. 
Nobody wants to enter a thesis before having to pay, right? It is difficult for mobile users to enter tons of information such as name, contact, email, etc. before checking out! So then, how do you deal with this problem?
Adding digital wallets to your site could be the best solution. Digital wallets are considered to be safe where the users can easily save and access their payment details, enabling them to pay without any hassle while facilitating a fantastic experience.
Digital wallets have several layers of encryption, making it an apt option for eCommerce sites and consumers. Some of the top and most popular wallets used across continents are Samsung Pay, Apple Pay, and Google Pay. If to improve mobile conversion rate for your business is what's on your mind, you absolutely must consider integrating digital wallets to your online store.
Smooth Navigation
You are losing huge chunks of business if your website is not easy to navigate! If your users aren't able to locate the products that they want to purchase, chances are they would abandon your site. 
You need to make sure that your website facilitates an enriching user experience because that again, helps improve mobile conversion rate. 
Tip – Step into your user's shoe and make sure you arrange all the elements for the easiest and the most enriching navigation!
Make sure all the internal pages of your online store are arranged systematically, and users are able to quickly navigate to the page they want without breaking their heads trying to figure out your site's navigation.
Relevant, high-quality images with compelling CTA's are like the icing to the cake when you want to improve mobile conversion rate. 
Mobile SEO Optimization
Mobile SEO Optimization is of utmost importance in terms of improving mobile conversion rate. It is vital to optimize your site for mobile users to find relevant content and pages.
It is important to optimize content and product descriptions for mobile devices primarily followed by paying particular focus on mobile SEO. A well informed Digital Marketing firm can quickly help you identify the glitches and make sure that your site is mobile SEO optimized!
Creating Clearly Placed Category Pages
This is something that's been avoided for long now! Even though this is one of the most critical aspects in terms of a friendly experience, placement of product category pages has been left neglected. 
It is essential to understand that the mobile version of a website has limited visibility for pages which makes it vital for website owners to pay attention to category pages.
How you list your website categories impact the purchase decisions of the buyers using their mobile devices.
High-Quality Attractive Images
Make sure you insert high-quality original images of the products that you list on your website in order to be able to grab the user's attention. 
However, make sure to keep the images and videos limited. You don't want to tamper with the website's loading time.
Tip – Compress all the images used on your website. Resize the images so that they don't hamper the speed of your website!
Build a Social Media Presence
For online buyers, trust is an essential factor. Posting client reviews and their testimonials could work wonders in terms of building trust and your brand's credibility. Creating social media handles and posting regular updates and posts would play a crucial role in helping you build your brand value and presence. 
Make sure you have listed your contact information, and if you have a physical location of your store, the store address across all your social media channels. Another great idea would be to partner with an experienced social media marketing agency that has the potential to implement the best strategies to help you scale your business!
Wrapping Up
Mobile commerce is big and it keeps getting bigger and better! You staying out of this game shouldn't be an option. Now is the time to claim your mobile revenue.
Here are seven proven ways that act as boosters to improve mobile conversion rates. Although there are plenty of other ways as well by which you can improve mobile conversion rates, choosing the best strategies must be based on the latest market trends.
RnF technologies is one of the top app development companies and are pioneers in developing user-friendly apps and web apps for businesses across sectors! Do you have an app idea in mind? Why not test our capabilities? Let's discuss it over a coffee. Good Luck!