Having successfully served and transformed the Startups world, SaaS applications are now dominating the enterprise space as well!
The big players like Adobe, Microsoft, SAP, and Oracle have swiftly moved their focus from software to subscription-based cloud solutions.
Watching the big sharks take advantage of this modern technology, even the most conservative enterprises and businesses are now thinking about adopting SaaS to make the most out of the flexibility and the reliability that comes with it.
Software as a Service (SaaS) is essentially a subscription software license that enables enterprises to use the on-demand product as a service over the internet.
It won't be long before enterprises solely run on SaaS applications majorly because of enterprise saas features. Let's look at some of the key features and benefits of using SaaS for enterprises.
According to Gartner, 95% of cloud security failures by 2022 will be the customer's fault. And to steer clear of these security breaches, SaaS providers enable customers with several solutions to help them implement security practices.
Features &
Benefits of Enterprise SaaS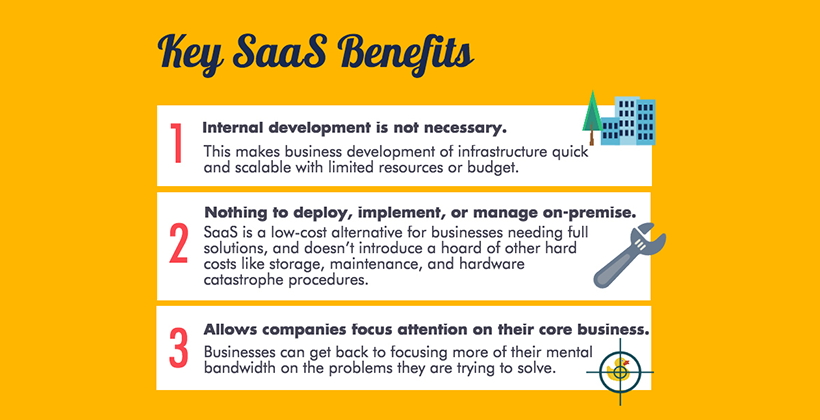 Enterprises that use a SaaS application are renting it. The enterprise pays a certain amount of fees in order to avail their services for a set span of time. 
One benefit of SaaS is that the enterprise doesn't have to deal with any technical issues that the software may face. SaaS primarily allows businesses and enterprises to start using the necessary functions for your business immediately.
With SaaS, users can easily access the application from anywhere with an internet connection. Users don't have to be limited to using the application at a particular workplace or a device. (Benefit of SaaS)

Using SaaS involves minimum and periodic payments instead of one-time lump sum payments, moreover, all the payments are predictable for SaaS. (Benefit of SaaS)

Users only require to pay rental services. All unused services during work are struck off the bill. The tariff plans (additional resources and users) can be managed as and when required. (Benefit of SaaS)

Enterprises and users are not required to install, maintain, and update hardware or software as SaaS facilitates a cloud infrastructure. (Benefit of SaaS)

As a thumb rule, SaaS systems are always cross-platform – which means a SaaS doesn't require a specific browser or an OS to work with the app. (Benefit of SaaS)

All the data stored in the cloud is automatically backed up by the service provider. In 99 percent of the cases, all the data is secure, and enterprises don't need to worry about data integrity. (Benefit of SaaS)
Essential Enterprise SaaS features your Application Must Have!
Scalability – (Enterprise SaaS features)
SaaS applications being cloud-based, they are easily scalable and can be integrated into multiple similar structures swiftly. 
The SaaS model can comfortably and swiftly scale up and doesn't require any substantial request or testing or tampering of mechanism structure/installing other software.
Easy scalability is one of the biggest reasons enterprises are adopting SaaS models. Data validates that enterprises that are using the cloud module and enterprise SaaS features are scaling quicker than those who aren't.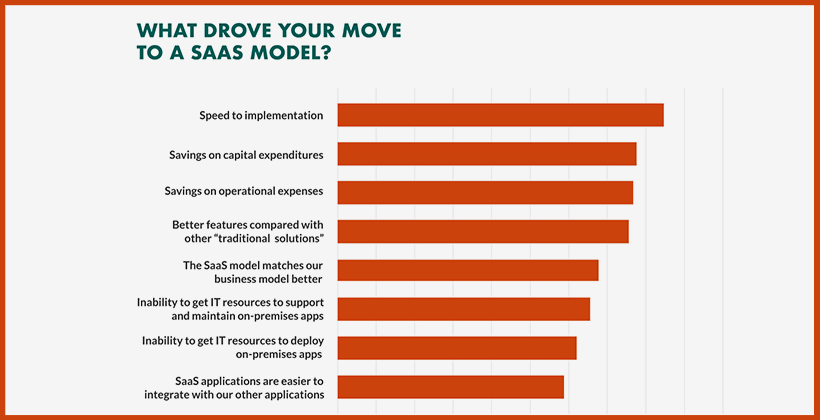 Easy to Use – (Enterprise SaaS features)
As we mentioned earlier, a SaaS module is essentially a cloud platform. This means that the users do not require installing, configuring, or upgrading any hardware which may require assistance. 
It is also cost-effective as enterprises entirely bypass the need for a dedicated IT staff.
Reports suggest that businesses enabled enterprise SaaS features witnessed a 15% drop in IT spending and a 20% reduction in IT maintenance costs.
Enhanced Security – (Enterprise SaaS features)
Cloud computing security is one of the most critical aspects of all enterprises. IT professionals say that safety is the biggest concern for enterprises.
Essentially, the SaaS service provider is solely and entirely responsible for the safety and preservation of data that customers and users allow them to keep. Due to this, data security is given massive importance, and customer data is kept confined.
Since the SaaS vendor is accountable for the preservation of data that a customer assigns them with, the security subject turns into extremely serious, and customer data becomes marvelously confined.
A Subscription Model That Saves Time – (Enterprise SaaS features)
Enterprises SaaS features used as a service subscribe to software on a yearly or a monthly basis instead of purchasing and installing software. Enterprises make use of relevant applications online, and all the files are saved in the cloud. 
The benefit of SaaS in this scenario is that it is already configured, and the user can directly start using the application. This saves time and eliminates the risks of any glitches, which could further stall operations.
With a SaaS application in place, all you need is an internet connection, and you are all set to save time and increase productivity.
Cost-Effective – No Big Investment – (Enterprise SaaS features)
One of the most appealing features of a SaaS module is that it operates on need-based payment models and doesn't require enterprises to pay lump-sum amounts upfront. The subscription to SaaS applications are generally on a monthly or annual basis.
Midsize companies, too, find this model extremely suitable for their businesses as they are more concerned with investments.
Adoption of SaaS is and will continue to be very cost-effective compared to the amount you would have to pay upfront to buy the required hardware and software.
Easily Customizable – (Enterprise SaaS features)
With the constant evolution of technology over time, SaaS applications have become extremely customizable. They can be integrated with several readily available software such as Dropbox and Gmail. It is also customizable on-demand.
This feature allows users and enterprises to continue the use of the applications without hindering operations. 
Easy Availability – (Enterprise SaaS features)
A cloud-based application is readily available and hence, accessible. They don't have downtime in 99.99% of the cases. SaaS applications are accessible through the internet; the only thing you require to work these apps is an internet connection and a web browser.
Conclusion
SaaS is a technology that's been around for some time and now. SaaS apps have successfully uplifted the Startup world and now is making its presence felt in the world of enterprises.
Looking at the benefits of SaaS, it is evident that it is the perfect solution for enterprises. Features like security, accessibility, and the fact that you can customize SaaS services as per your business requirements, makes it a great solution for enterprises.
We at RnF Technologies have an acute understanding of how businesses and enterprises can benefit from a cloud-based application. Got a project in mind? Why not test us? Let's schedule a quick call and get the ball rolling!