Hyper-Casual Games generate $2 billion – $2.5 billion of revenue annually.
How to create hyper casual game? To build a hyper-casual game at a hyper-fast pace, having a clearly laid out production process that focuses on the game design – is imperative!
A lot of mobile game developers, unfortunately, frisk into the development process without actually planning and testing. 
What do you think happens to such gaming apps? Yes! This often leaves the developers with little or absolutely no idea of how the gaming app would appeal to the users resulting in a waste of time and effort.
In 2020, a number of people are engaging with mobile games and are spending a noticeable number of hours playing them on their smart devices, perhaps engaging with more and more ads.  
Do you know – The first quarter of 2020 witnessed hyper growth in the hyper-casual vertical, with global installs doubling from December 2019 to March 2020?
According to data by Adjust Data, between December 2019 and March 2020, the gaming session went up by a whopping 72%.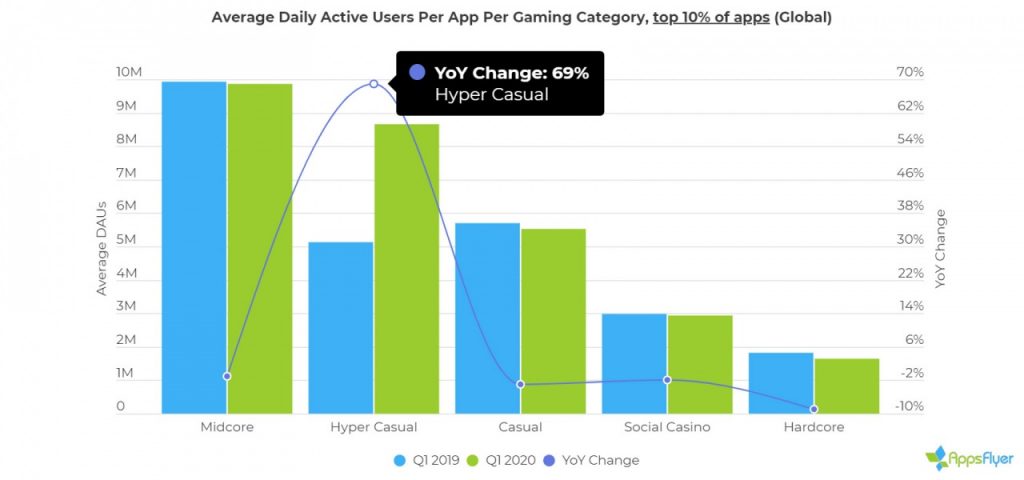 What Makes A Good Hyper-casual Game?
The identity of creating a hyper-casual game is that it is short, simple and satisfying. So, what makes a good hyper-casual game? Building a Hyper-Casual game is considered to be best if it has a short life span which means it should be quick, cost effective and easy to build.
Simple And Lightweight
Hyper-casual games are essentially mobile games that facilitate instant gameplay. They are supposed to have easy and uncomplicated mechanics such as falling, turning and stacking.
When creating a Hyper Casual game, make sure that it is designed to be lightweight and has minimal on-boarding in order to allow users to quickly start playing and engaging. It is this uncomplicated approach that marks hyper-casual games a super hit, engaging and addictive.
Huge Audience
A crucial part of creating a Hyper-casual game is knowing its target audience. Hyper casual games are built for a mass market and not just a set of audience. Their accessibility and ease of understanding regarding the mechanics means that they can attract a large audience and generate revenue with a freemium monetization model.
One Mechanic
Now that you are building a Hyper-casual game, you should know that it essentially features just one mechanic and has a very basic interface. It is vital that when a gamer opens the app, he/she should be able to access the game within seconds. 
Having said that, it is vital to keep the game aesthetically pleasing and the game level designs must be appropriate and engaging as it is. Also, an important aspect of creating a hyper casual game is that it should be simple and uncomplicated. 
4 Key Steps To Building A Hyper-casual Game!
Now that we know how Hyper-casual games are making its mark in the mobile game industry, let's look at the 4 key steps to building a hyper-casual game!
Step 1 – Concept
We know that building a hyper-casual game is based on its mechanics and not plots. As such, consider starting with picking the right mechanic for the game development when creating a hyper-casual game.
Out of the many, the most popular mechanic is: taping on the screen at the right time. Example – Crossy Road, Temple Run and Flappy Bird. 
Some other popular mechanics include merging, growing, rising and falling. However, once the mechanic is final, consider picking the setting that suits the mechanic. 
Make sure that the setting you choose when creating a hyper casual game is not complicated as it must facilitate a simple game design for the users to stay hooked.
Step 2 – Prototype
If you are already familiar with the process of building a gaming app, Great! If not, there will be a stage where you might want to consider outsourcing game app development to top game development companies to build an app that gets a million downloads. 
Make sure you share your concept with your outsourcing partners carefully and in detail and ask them to build a product that you want. Once the prototype is done and the app is developed, it's about time you start testing the app!
Step 3 – Testing
A lot of people do not give testing the importance it deserves. However, Testing is one of the most crucial stages when it comes to mobile game development. It is vital that you test your app from both user aspects and the technical aspect. 
Consider engaging more and more people from your target audience to engage with the app and play the game you've built. Collect their feedback and accordingly, make any changes or modifications that you think are necessary. 
A top game development company like RnF Technologies can take care of the testing for you.
Step 4 – Release The App
Once the testing is done, the modifications are made and the bugs are fixed – It's time you release the app on the app store. Once the app is live and people start downloading and engaging with it, you will start profiting from the app.
Game App Monetization
There are a number of ways to monetize your app.
Pay-Per Installation
Paying per installation is not a very popular monetization model companies use when creating a hyper-casual game. There are a number of hyper-casual games on the app store and to implement this monetization model, it is vital that your game has something extremely unique. 
It is only then that your users will want to pay for your game upfront. This model is majorly used for monetizing hardcore games which have a plot and targets devoted gamers like PubG and Special OPS.
In-App Advertising
In-app advertising using advertisements is one of the best monetization models you should consider when creating a hyper casual game. Your ads could either be banners, videos , additional lives or even watching ads. 
An important thing that you should keep in mind when creating a hyper-casual game is that the number of people who engage with such games are plenty and the sheer size of the audience in itself make this one of the finest monetization models for such gaming apps.
Moreover, producing the ads for these apps are cost effective because of the gaming app's simple and uncomplicated design, use of a single mechanic and its lightweight.
In-App Purchases.
In-app purchases aren't the best fit for targeting casual gamers. However, the option to switch off in-game ads for one-time payment could be a great idea.
Cost Of Building A Hyper-Casual Game
Estimating the cost of building a mobile game app is tricky. The cost of building a gaming app depends entirely on the number of features you want your game to have, the complexity of your games graphics, the number of platforms you want your app to surface on and a couple of other factors.
Having said that, Building a hyper-casual game is a lot more cost effective than complex mobile games. 
Looking at the simplicity level and considering that only one mechanic is required, you would need limited people to work on your game app development when creating a hyper-casual game.
| | |
| --- | --- |
| Game designer | 1 |
| 2D or 3D designer | 1 |
| UI designer | 1 |
| Sound designer | 1 |
| Unity developer | 1 |
Building a hyper-casual game app using Unity typically takes about a couple of months. Keeping the aforementioned in mind, the average cost of building a hyper-casual game app would cost you anywhere between $10,000 – $15,000.
The more features you add when building your Hyper-casual game, the more will be your game app development cost. 
Final Thoughts
Hyper-casual games are considered to me amongst the most promising game categories. They reach the widest audience and have the highest retention rates.
The best thing about building a Hyper-casual game is that the development is swift and relatively inexpensive. Their easy interface and small size makes them versatile enough to be used by very different demographics.
However, the abundance of these games on the market might make it hard for your game to get noticed. If you want to ensure that your game will be unique and interesting, partnering with a top game development company would be your safest bet.
RnF Technologies believes strongly in adapting to new challenges and being open to finding the right solutions. Are you planning to build a Hyper-casual game? Great! Let's get in touch and discuss this.