How to build a fintech app? What is fintech? The new age term for anything that is to do with technology and finance is dubbed as "Fintech!" It is interesting to know that Fintech has turned out to be omnipresent. It is highly possible that you use fintech more than you actually realize it. 
Most of the things that we do in our day to day lives like withdrawing cash from the ATM, using mobile wallets to pay at the groceries or pay bills – are all a part of fintech, which makes building a fintech application intriguing and rewarding.
What Areas Does the Fintech Market Covers?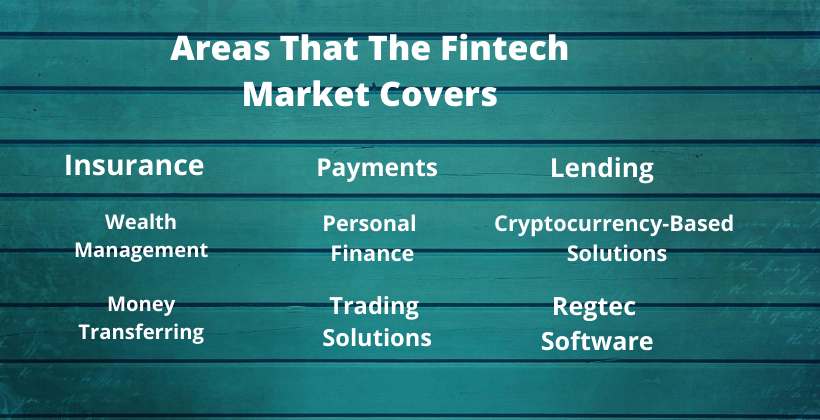 The global financial sector is expected to be worth US$26.5 trillion in 2022 with a CAGR of 6%. 
Some stats to ponder on based on Statista!
By 2022,

65.3% of Americans

will be using Digital Banking 

66.7% of the world population will be using digital wallets and phone banking apps by Q4 of 2020.



By the year 2022. Fintech will welcome

33.3% of loan granting

and applying process in the USA.

The use of fintech apps has increased by 354% over the past five years.
Types of Fintech Apps
Building a fintech app is tricky. Having said that, Fintech is also very yielding. When you think of building a fintech app, it is vital that you opt for the right type of app for your business. Here is a list of some prominent fintech application types.
Wealth and Investment App
Building a Wealth and investment fintech app is a great option. Such an app allows you to buy stocks, ETFs, mutual funds, etc easily from your home. 
This type of fintech app also suggests the best investment options for app users based on the user's preference and portfolio.
Mobile Payments App
Some of the most popularly used payment apps are Venmo and Paypal. These fintech apps were built to make and accept payments. 
If this is the kind of Fintech app you are looking to build, make sure you consider facilitating must-have fintech app features like transaction history, currency conversion, and rewards in the app.
Lending App
Building a lending fintech app is similar to creating any other fintech application. Lending apps effectively reduce a lot of manual work that was required at one point in time.

New and emerging technologies like Artificial Intelligence are changing the way lending works. AIs in lending apps make sure that the loan amount offered by the app is optimal based on the users. 
Insurance App
Developing a fintech app for insurance is a great idea as this segment gathers huge amounts of data – in terms of customer information.  
When you want to create a fintech app of this type, having a streamlined process and well-trimmed UI becomes mandatory.
Benefits of Building Fintech Apps For Business and Customers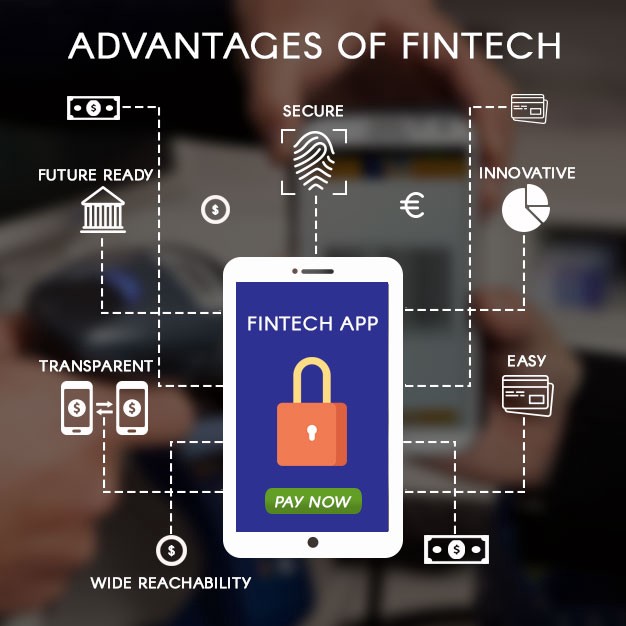 Building a fintech app is great as fintech apps are beneficial for both, the customers and the business. Some major benefits of creating a fintech app are:
Cost-Effective Development and Maintenance
Fintech apps facilitate customer feasibility. Furthermore, building a fintech app is beneficial for businesses because they help reduce the cost of development and maintenance associated with it.
Building a separate app for Android and iOS will cost companies twice the amount of money than creating a fintech app using cross-platform options like React Native. 
Did you know that building a fintech app using React Native could bring down the cost of development by 60%?
Economic Benefits
Building a fintech application has a noticeable impact on the economy. Economic growth is vital to businesses regardless of their size. Having said that, SMEs face a plethora of hurdles in securing the finances that they require to thrive. 
creating a fintech application not only significantly reduces the cost of development but also saves the cost of hiring resources to manage cash flow and company finances. 
Furthermore, by building a fintech app, synchronizing financial data from different financial institutions and curating it on one platform becomes easy and it would help businesses reduce their compliance costs too.
Enhancing Customer Experience
Building a fintech app with the feasibility of conducting transactions, checking your bank balance, paying bills online, etc through their smart devices from the comfort of their homes is definitely making the customer experience a lot more productive and pleasurable.
Vivifying User Engagement
Creating a fintech application also facilitates push notifications. Push notifications help enhance the user experience on the app providing them information on transactions and account details. Push notification on the app also allows audience targeting during the marketing process. 
Must-have Fintech App Features!
When you are certain that you want to build a fintech app, one of the things that you must worry about is what features are you going to equip your app with for it to be received well? 
Here is a list of must-have fintech app features that you should consider when building your fintech app.
Security
Protecting the financial information of your users should be a top priority. In order to do that, the fintech app developers need to implement things like blockchain, biometrics, encryption, and two-factor authentication.
Payment Gateway
Most of the Fintech apps that are built have to do a lot with payments. In order o enable the payment functionality when you build a fintech app, choose to integrate with services like Stripe, Bank APIs, PayPal, etc.
Dashboards
Dashboards are immensely important when it comes to creating a fintech application. Building a Fintech app without a visual representation that shows the user's information about spending, payment history, and account details is pointless. 
Voice Integration
Voice integration is the trend in 2020. When building a fintech app, consider floating the most used features of your fintech app on the surface. Enable voice integration via voice assistants like Google Assistant Siri and Bixby.
How to build a Fintech Mobile App?
Building a fintech app is tricky and demands a lot of technical knowledge. If you are looking to create a fintech app that is equipped with the best of features, is secure, and ends up hitting a million downloads, it is imperative that skilled and experienced app developers do the job for you. 
5 Steps to Build a Fintech App
Research
Research is crucial for creating a fintech app. Get to know who your potential users are. Plan for the look and feel of your fintech app. Make sure you validate your app idea based on availability.
Form a Team
Form a team of developers. Developers are the ones who are going to build the fintech app for your business so make sure you hire developers who are proficient and well versed with their skills. Keep your communication with the development team clear.
Choose a Technology Stack
What does choosing a technology stack mean? There a number of languages that can be used to design your fintech application. You could either opt for native technologies for Android and iOS – which means both the apps will be developed separately, increasing your development cost.
The other option is to design the app using a Cross-platform stack which can reduce your development cost by 60% as mentioned earlier. Building a fintech app using a cross-platform development allows you to write a single code which works for Android and iOS. 
UI/UX Designing
When creating a fintech application, make sure the UI/UX of your app is vibrant, colorful, and most importantly – easy to use. Do not overcrowd your fintech app features that aren't necessary. 
Also, consider having all the major features and important information placed on the dashboard so that your users don't have to hunt for options.
Testing
Once your app is built, it's time to put it to test. Launch your app in the Beta phase to select customers within the organization and gather feedback. Make any required changes get done with fixing all the bugs and you are good to go!
Final Thoughts
Fintech Applications have taken the world of finance a step ahead. Fintech applications have brought in a lot of great opportunities for businesses. 
A report suggests that traditional organizations will partner with fintech firms 80 percent more times in the next couple of years.
Moreover, fintech applications facilitate a better user experience to the users and make it easy for them to make transactions. Are you planning to build a fintech app? Great! Let's get in touch and discuss this.